I can't say enough nice things about Teresa and Geordie! When I first met them, Teresa was extremely excited about her wedding and had a very bubbly personality. She couldn't wait to tell me all about her wonderful wedding plans. Geordie, like any other groom-to-be, was just happy to see his fiance so excited. I knew right away that we would be a good fit because I love weddings too!
Before I get to their wedding day, a quick story...
A few days before Teresa & Geordie's wedding, we did a pre-wedding walk through of gorgeous Grouse Mountain together. However, there was one small problem. On that day, Grouse Mountain was completely socked in with fog. We could barely see the hands in front of our faces, let alone visualize locations and settings for photos. It was a little disconcerting and Teresa was visibly nervous about their wedding day turning out the same.
Geordie is from Australia and they told me that one of the things he loves most about his new home of Vancouver is the beautiful city view from Grouse Mountain. In fact, it was the reason they picked Grouse for their wedding! Without the view, there would definitely be a damper on the day.
But... this story has a happy ending...
Of course, it was perfect weather on Teresa & Geordie's wedding day. When I stepped out my door in the morning and looked up at Grouse I saw no fog and immediately knew it was going to be a wonderful celebration!
A few highlights from the day:
1. The bride. Who looked gorgeous and happy all day. Teresa wanted her makeup to be fresh, light and radiant. I think she achieved all three. Don't you think Teresa looks like
Zooey Deschanel
? So gorgeous!
2. The groom. Who stared at his bride with loving admiration all day. Isn't that a groom's job on his wedding day? It didn't hurt that Geordie looked handsome too.
3. The weather. Hooray for sunshine! I'm so glad it was beautiful for Teresa & Geordie's wedding. Although the fog might have been cool for photography, the sunshine was what they were hoping for, so I'm thrilled that Teresa & Geordie got their wish.
4. The cake topper. Teresa ordered her cake topper from
Lollipop Workshop
on Etsy. Isn't it the cutest cake topper you've ever seen? I love the small details that make it uniquely Teresa & Geordie. Even the colour of their eyes is exactly right. A big shout out to Etsy for being the perfect place for brides to find unique and personalized handmade items for their wedding. Go Etsy!
5. The make up. I really cannot stress enough how important professional makeup is for a wedding day. A bride with professional makeup will look radiant and feel gorgeous, which really helps her shine on her wedding day. Teresa was no exception. Her professional makeup really matched the vision she had for her wedding day and she looked stunning. Well done to
Colleen Kramm
for your amazing artistry!
6. My brother. Since having his first child last November, my brother Gord has not been available to photograph weddings with me. I've been thrilled to shoot with Vicki Gannon instead, but when she wasn't available on Teresa & Geordie's wedding day, I begged my brother to come out of retirement to help me out. I love shooting with a second photographer like Gord because he is 100% reliable, 100% consistent and 100% skilled as a photographer. I was very lucky to have him at my side for Teresa & Geordie's wedding. Thanks Gord!
7. Grouse Mountain. Which is a terrific venue for a wedding in Vancouver. The view was amazing and the deck where Teresa & Geordie had their ceremony was a spectacular setting for a couple to start their married life together. I can't wait to shoot another wedding there one day!
8. The bride's corset. I never thought I would write about an undergarment as a highlight of the day, but isn't Teresa's corset gorgeous? She could have worn it as her wedding dress it was so pretty. (She bought it at
Lace Embrace
.) And speaking of undergarments, Teresa's underwear (not shown, sorry, the undies are for Geordie's eyes only) were really cute too. They said "forever yours" across the backside. Awwwww.
Okay... enough writing... time for the photos.
Thanks again to my brother Gord for a bunch of photos in this set below, including the getting ready shots of the groom, the tram, the bride's entrance at the ceremony, the first kiss and the reception details.... oh, and the adorable ring shot with the cake topper in this first shot below. I'm jealous I didn't take it, but Gord beat me to it! Nice work bro.
Isn't this little man gorgeous? I think he could easily be mistaken for one of the Pitt-Jolie kids!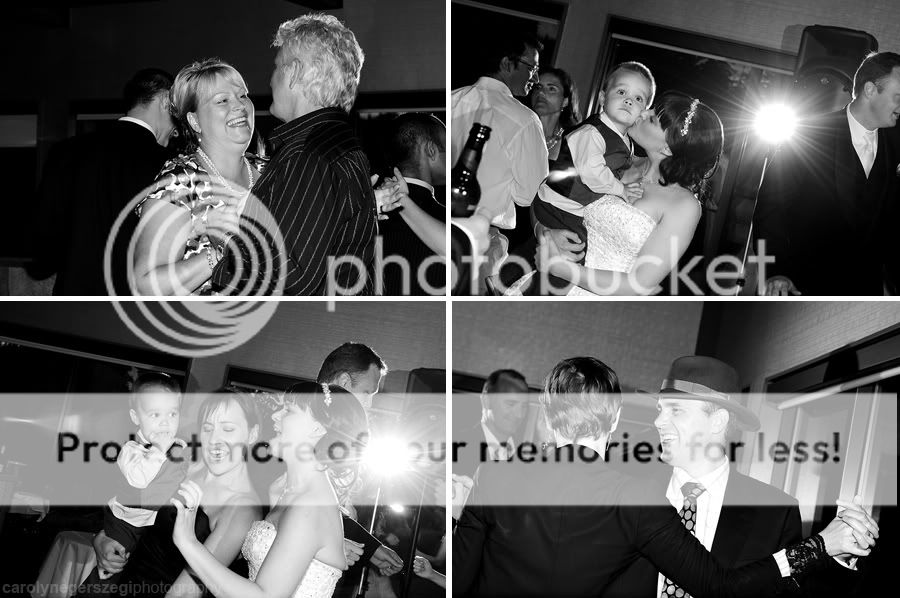 Congratulations Teresa & Geordie!
The details:
Bride's Dress -
David's Bridal
Bride's Shoes -
The Bridal Gallery
Bride's Jewellery - the bride's something old
Bride's Veil -
David's Bridal
Bride's Tiara/Headband - the bride's something borrowed
Bride's Corset -
Lace Embrace
Bridesmaid's Dresses -
David's Bridal
Bride's Hair -
Ian at Colourbox
Bride's Makeup -
Colleen Kramm
Bride & Groom's Rings -
Diamond Deals
Groom/Groomsmen Attire -
Moores
Stationery/Invitations -
Wintons Social Stationery
Flowers/Bouquets/Boutonnieres/Centrepieces -
V&J Plant Shop Ltd.
The Cutest Cake Topper Ever -
Lollipop Workshop, Etsy
Reception Decor & Wedding Day Coordinator -
Sweet Beginnings
Ceremony & Reception Venue -
Grouse Mountain