A few weeks ago I had the honour of capturing Hayley and Paul's wedding day. They are a vibrant couple who were absolutely meant to be together. I have never seen either of them without huge smiles on their faces or a twinkle of love in their eyes for each other.
A few highlights from the day:
1. The bride. Who was radiant and happy from start to finish. When I showed Hayley and Paul their photos a few days ago, even the bride herself commented on what a great time it looked like she was having! I love being able to create photographs that remind couples not only of the details of their wedding day, but also of the excitement and emotions of their special celebration.
2. The groom. Who smiled every second of the entire day. Usually Paul's smiles involved staring at his beautiful bride Hayley, but I also love how Paul had a constant smile for all of his wonderful friends and family too. One of the groomsmen mentioned in his speech that he could not remember a time when Paul did not have a smile on his face. He is just that type of guy and it is one of the many reasons Hayley and Paul were made for each other.
3. The weather. Which finally turned nice (if only for one day) so that Hayley and Paul could have a gorgeous wedding celebration. I am not going to jinx my good luck, but [cough cough] if you look through my wedding portfolio, you will see
a lot
of sunny days. Just sayin'.
4. The beauty experts. When a bride looks and feels stunning, the wedding day (and my photos) usually turn out amazingly well. Therefore, a big shout-out is in order for two
award winning
ladies:
Alina Friesen at Space Salon
who styled Hayley's gorgeous hair and
Felicia Bromba
who made up Hayley's gorgeous face. Both of these ladies perfectly captured the essence of Hayley's personality and style with their work, allowing the bride to feel radiant on her wedding day. Their expertise and experience also meant that Hayley looked as perfect at the end of the day as she did at the beginning. A shout-out should also go to Felicia's assistant, who made up all of the beautiful bridesmaids too. Nice work ladies!
5. The Royal Vancouver Yacht Club.
RVYC
is a beautiful venue for a wedding in Vancouver. Set right on English Bay, with beautiful views of the water and the North Shore mountains, it offers a perfect setting for a romantic event. This is the second wedding I've photographed at RVYC and I hope to do it again soon. Oh, and it didn't hurt that the food was delicious and the dessert buffet was amazing!
6. My second photographer
Vicki Gannon
. I have been wanting to work with Vicki ever since I met her at a workshop last year. When we first met we were very surprised to learn that we only lived a few houses away from each other, so it only made sense that we would work together eventually. Hayley and Paul's wedding was finally that chance and I could not be more thrilled with Vicki's work. Normally I do not feature so many photos by a second shooter on my blog (after all, the idea is to feature
my
work and not somebody else's) but you will see many of Vicki's photos below because she did such an amazing job. Thanks Vicki. I cannot wait to work with you again!
7. The wedding party. Who kept Hayley and Paul taken care of and having fun all day. A special shout-out goes to two of the groomsmen in particular: one, who performed backflips on demand all day and another, who not-so-secretly hid a radio headphone in his ear to keep us all informed about game two of the Stanley Cup finals, which, if you have forgotten - we won, which explains the photo of Hayley leaping out of her chair during the reception.
Wow. I could write so many more highlights, but you probably came here to see the photos. Enjoy!
The next series of shots of the groom with his guys were all created by
Vicki Gannon
. I just love every image that Vicki made for Hayley and Paul on their wedding day. These photos are also an excellent arguement for why having a second photographer at your wedding is so important and why I include a second photographer in all of my wedding commissions. I cannot be in two places at the same time, so unless the bride and groom are getting ready at the same location, without a second photographer, the groomsmen will likely not make an appearance in the story of a wedding day until the ceremony.
Can you imagine a wedding album without these photos!?
Thanks again, Vicki! And now, more from me...
Some more excellent images by Vicki...
And back to me with the gorgeous, stunning, radiant, exquisite, beautiful bride...
An assortment of photos from both Vicki and I...
Portraits time... rawr!
I love this catch by Vicki... I was photographing the bride and groom when the Canucks scored a goal and Vicki caught this reaction from one of the groomsmen:
Hilarious!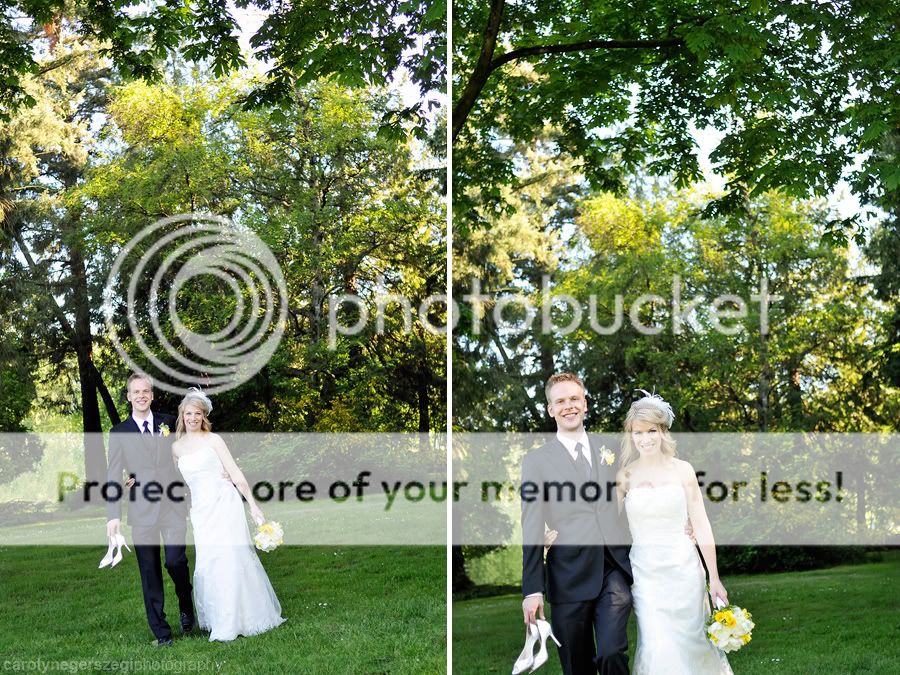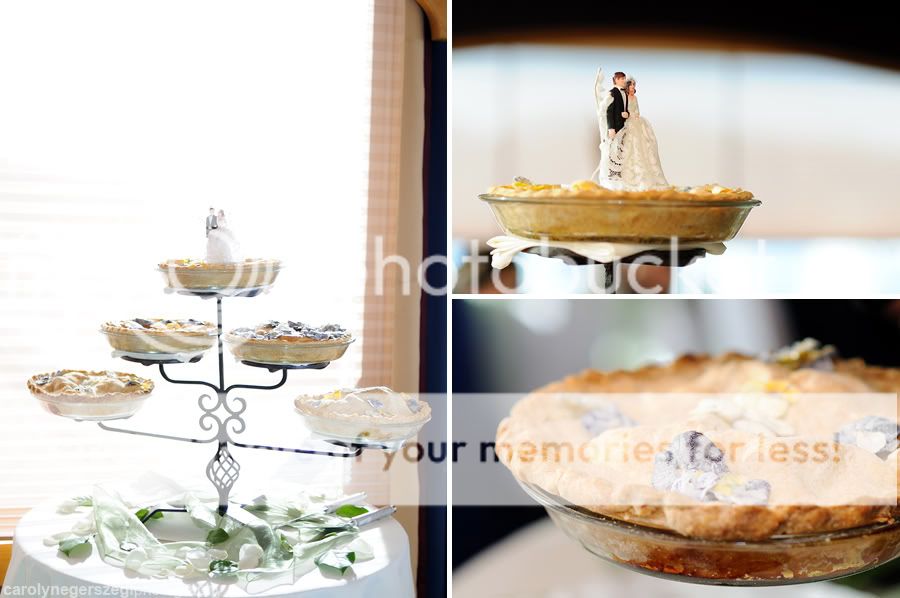 Another goal by the Canucks... this time I caught it:
And finally, the bride's reaction to Vancouver's overtime win in game two of the Stanley Cup finals:
Cute story about the wedding pies, instead of cake: apparently neither the bride nor the groom like cake, so growing up they each had pies every year on their birthday instead of cake. It was only fitting then that they would have pie for their wedding day too, right? Now can you see what I meant when I said Hayley and Paul were absolutely meant to be together?!
How is this for a grand exit? Paul and Hayley sailed away together on a boat at the end of the night:
Congratulations Hayley & Paul. I'm thrilled for you both!
The details:
Bride's Dress - Dere Kiang from
Action Liquidators
(for an amazing price!)
Bride's Shoes -
The Bridal Gallery
, New Westminster
Bride's Jewellery -
The Bay
Bridesmaids' Dresses -
Le Château
(who the bride tells me were
awesome
and found another dress in Newfoundland more than 6 months later, shipped it out for free and gave the bride an exchange and everything. Well done Le Château!)
Bridesmaids' Earrings -
Le Château
Bride's Hair - Alina Friesen at
Space Salon
Bride's Hair Veil Accessory -
Action Liquidators
Bridesmaids' Hair Feathers -
Emma Fl(H)air
on Etsy.com
Bride's Bolero Top -
Angelika Liv
in Tel Aviv, Israel on Etsy.com
Bride's Makeup -
Felicia Bromba
Groom's Attire - Cavalli from
Harry Rosen
Bride & Groom's Rings -
Spence Diamonds
Bride's Bouquet and Flowers - Annie Ly at
Fleurtations Flowers
Ceremony & Reception Venue -
Royal Vancouver Yacht Club
Invitations - designed by the groom
Wedding Pies - the Mother of the Bride made the candied pansies and both the Mother of the Bride and the Mother of the Groom made the pies together. Nice teamwork moms!